The CM-1776 is Channel Master's flagship outdoor TV antenna, designed and manufactured in the USA. This outdoor TV antenna offers a sleek appearance and industry leading performance. The CM-1776 is constructed using the highest quality materials and is designed to withstand extreme weather conditions.
The Flatenna is easy to install and should be mounted on a wall or window for best performance. The install height of the antenna will effect antenna performance, higher is better.
Let us recommend the best TV antenna for your home.
A personalized TV antenna recommendation requires a signal reception analysis for your location. Please ensure the accuracy of your full street address and zip code.
Recommended TV Antenna
for best performance at
Receive These Popular Channels
and more with this TV antenna








Channel Master Recommends
Pro-Model
Outdoor TV Antenna
$149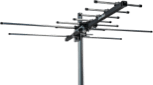 Channel Master Recommends
Flatenna+
Indoor TV Antenna
with Amplifier & 12' Cable
$39

Our automated recommendation tool was unable to recommend an antenna for your location.
Please complete the form below to have one of our experts contact you. We will evaluate signal reception at your location and discuss your options.
Thank you for your interest in a Channel Master TV antenna.
One of our TV antenna experts will contact you via email and/or phone within 24 hours.