Broadcast Tower Map and Technical Info
Gadsden, SC 29052 - TV Antenna Map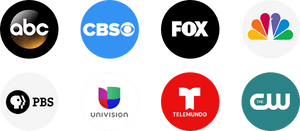 These popular channels and more are available in the US and can be received nationwide with a TV antenna.
Up to
TV Station Transmitters For

Gadsden, SC 29052
Technical Information
TV station technical information for broadcast towers located within 100 miles. Click on channel to show tower location on map.
Channel
Call Sign
Network
RF Channel
Distance (miles)
Direction Magnetic (deg)
Signal (dBm)
How much signal power will my tv need to receive a channel?
Televisions will typically process signal power levels between a high of - 5 dBm to as low as around -65 dBm. The required minimum signal mainly depends on local conditions (RF noise/interference), and the tuner sensitivity in your television or receiver. Under ideal conditions (TV antenna Installed outdoors at 15 feet or higher, no RF interference and a highly sensitive TV tuner) it is possible for a TV tuner to receive a -70 dBm signal, but you can conservatively expect most TV tuners to require a minimum signal power level of -65 dBm.
What is an RF channel?
The RF channel is the actual channel the tv station transmitter is using to broadcast over the airwaves. Don't get this confused with the channel numbers that appear on your screen, in many instances you can have a TV station broadcasting on RF channel 25 but the channel displayed on your television is actually 3.1, 10.1 13.1, etc. The RF channel number is typically only useful when selecting a tv antenna and determining which TV stations are being broadcast on UHF or VHF frequencies.
Map Key:
Low VHF
High VHF
Channel Master's antenna recommendation engine will analyze your address and recommend a TV antenna solution that is optimized for your location.
Get Antenna Recommendation