Watch Live TV Channels in HD for Free
Oceanside, OR 97134 - Free TV Channels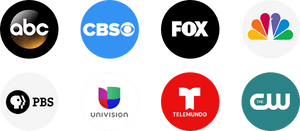 These popular channels and more are available in the US and can be received nationwide with a TV antenna.
Up to
Available Channels For

Oceanside, OR 97134

*
Channel Master's antenna recommendation engine will analyze your address and recommend a TV antenna solution that is optimized for your location.
Get Antenna Recommendation
Questions? We're here to help.
The Basics
How does Over The Air TV work?
Major networks including ABC, CBS, NBC, FOX, and PBS have affiliates in almost every major US city that insert local programming into the network's national feed then broadcast TV signals over-the-air from a centrally located broadcast tower. TV signals travel over the air and can be received several miles away at your home or business with a simple indoor or outdoor TV antenna. The distance between your home and the broadcast tower will ultimately determine whether you will need an indoor or outdoor antenna. Channel Master's easy to use tool on this page was designed to identify channels that are available in your area. Our antenna recommendation engine can also determine and make a recommendation for the outdoor TV antenna that will work best at your location.
How much does Over The Air TV cost?
Over-the-air programming is free to anyone who can receive the signals with an antenna. There are no catches or gimmicks, local affiliates can broadcast for free because their business model generates revenue from consumer viewership of ads, commercials and sponsorships.
What channels will I receive and what shows will I be able to watch?
ABC, CBS, NBC, Fox, PBS and The CW are available in all major US cities. Various other networks including independent, international and faith based channels are also available but differ by city. You will receive all of the top shows like Dancing With The Stars, Grey's Anatomy, Bull, The OT, Empire, This Is Us, Chicago Fire, The Tonight Show, The Voice, Arrow, The Flash and more. Local News and Live events such as the Olympics, the Oscars and the Super Bowl are also available for free on over the air TV.
How do I install a TV antenna?
An indoor TV antenna is the easiest to install, typically you will attach the antenna high on a wall or in a location near a window then connect a coaxial cable from the antenna to the TV, DVR or Set-Top Box. While indoor TV antennas work for some, Channel Master highly recommends the installation of an outdoor TV antenna to ensure signal reliability and the best overall user experience. Installing an outdoor tv antenna will require more effort than an indoor tv antenna as it will require you to determine the best location to mount the antenna while considering how to route coaxial cable from the antenna to each of the TV's.
How does the picture quality compare to cable and satellite?
All major networks broadcast signals in HD quality. HD channels received over-the-air with an antenna display better picture quality than the same channels received from a typical cable, satellite or streaming provider.
Will I need an antenna for every TV in my house?
A single antenna can be split to feed multiple televisions but additional equipment such as cabling, splitters and amplifiers may be required. To simplify installation, you may consider installing an indoor antenna to each television in your home. (It's important to note that while installing an indoor antenna at every tv location may simplify installation, it not always the best user experience. Channel Master highly recommends the installation of an outdoor TV antenna to ensure signal reliability and the best overall user experience)
Can my apartment or homeowners association restrict me from installing an antenna?
In effect since October of 1996, FCC regulations establish that you have a right to install a video antenna on your property, regardless of whether the property is owned or rented, and it specifically prohibits restrictions from an HOA, landlord or property manager that would: (1) unreasonably delay or prevent installation, maintenance or use; (2) unreasonably increase the cost of installation, maintenance or use; or (3) preclude reception of an acceptable quality signal. Learn More